How to reach us.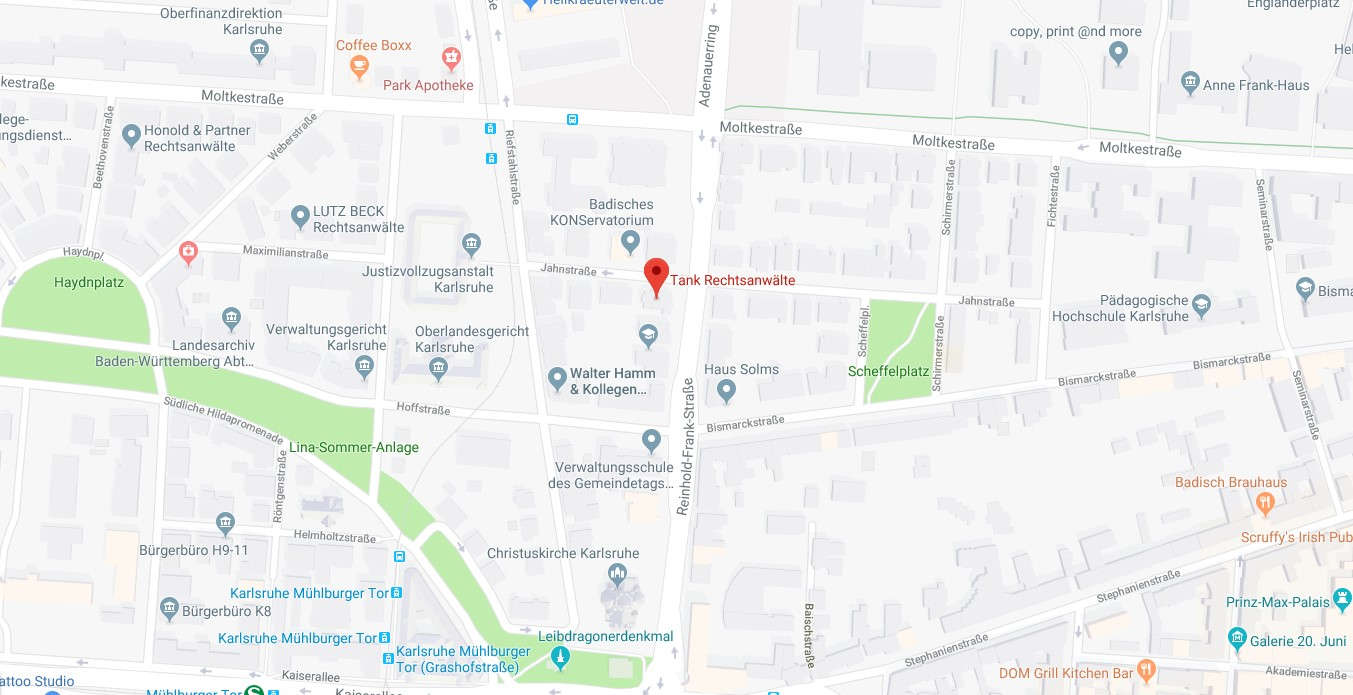 TANK RECHTSANWÄLTE – LAWYERS
Boutique for Private Law and Litigation
(near Constitutional Court and Supreme Court)
Phone: +49 (0) 721 98476-0
Office Hours:
Monday to Friday: 9:00 am to 12:30 pm and 2:00 pm to 5:00 pm
The premises of the law firm TANK Rechtsanwälte feature works of art by Katalin Pappné-Szalay.
How to find us:
By car: Coming from the North: Take the BAB 5 motorway, take exit Karlsruhe-Süd From the South: Take the BAB 8/5 motorway, take the exit Karlsruhe-Süd The approach road in the direction of the city centre (Stadtmitte) leads along Brauerstraße to Reinhold-Frank-Straße. After crossing Kriegsstraße and Kaiserallee at Mühlburger Tor, continue as far as the second intersecting road on the left (corner of Jahnstraße). (Building on the opposite corner of Jahnstraße: Badisches Konservatorium; at an angle to Reinhold-Frank-Straße: Rechtsanwaltskammer Karlsruhe) Parking spaces are available.
By public transport: From Karlsruhe railway station (Hauptbahnhof), Tram line 2 or S1/S11 as far as Mühlburger Tor, then five minutes' walk in the Northern direction along Reinhold-Frank-Straße to the corner of Jahnstraße or by taxi from the railway station, approx. 15 minutes